Multifamily Developers Shrink-Rayed New Apartments in the Past Decade
The average size of new apartments completed in the U.S. in 2016 has fallen to 934 square feet, which is 8% smaller than 10 years ago. Nationwide apartment search website RENTCafé has recently published the findings of its study which show drastic changes in the US-wide rental market conditions—at the expense of renters.
Using the past ten years' data from apartment market intelligence source Yardi Matrix, RENTCafé analysts tracked the changes in apartment size in multifamily developments with 50 or more rental units.
Surprisingly, it was not the largest units that saw the steepest decline in square footage, but the smallest—developers took away the most space from studios. And not just proportionally, but also in absolute terms. An average studio built in 2016 is 110 square feet, or 18% smaller than one constructed 10 years ago. By contrast, one-bedroom apartments have shrunk by only 42 square feet or 5% on average, while new two-bed units are actually 14 square feet (1%) larger than those delivered in 2006.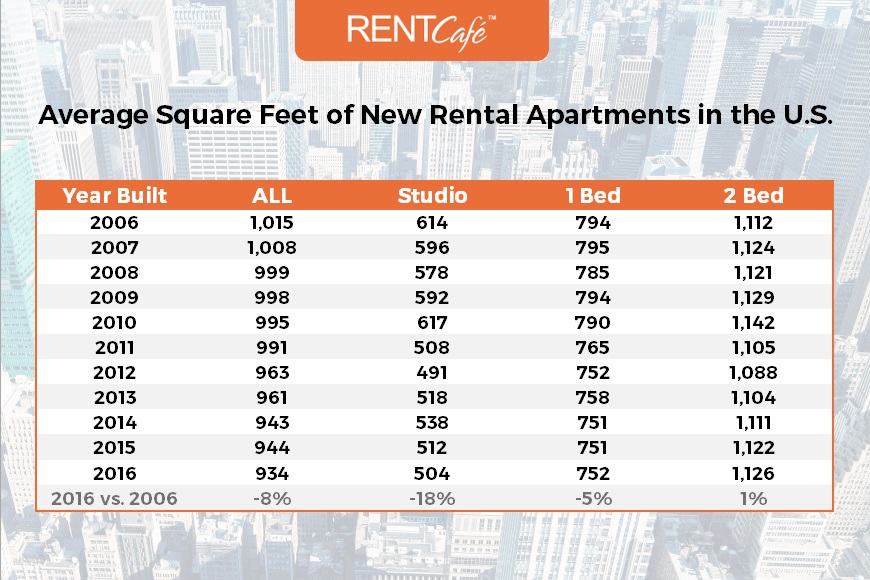 A Recession Hit, but the Aftershocks were More Destructive
Apartments have been slowly but surely shrinking in cities all across the US, but 2010 was a well-defined turning point. That's when the housing market started to show the first tenuous signs of recovery, but a short recoil in investments caused a significant drop in new rental stock. Not only were there fewer units delivered, but those that came online were also smaller in size. The largest backslide was recorded from 2011 to 2012, when the overall average apartment size dropped 28 square feet. The market remained stuck with this trend even after 2012 when inventory growth started to normalize again.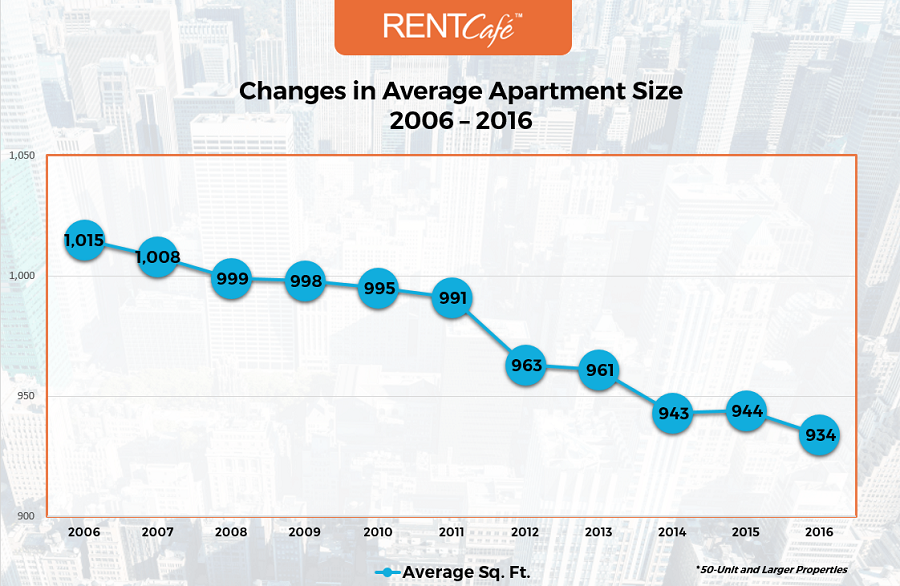 Southern and Southeastern Markets Compensate for the Deficits
Developers in the Southern and Southeastern regions have a lot to do with the US average apartment size being where it is, namely a hair below 890 square feet. The Southeast performs particularly well in this regard, where the average apartment size is 974 square feet, 85 square feet larger than the national average.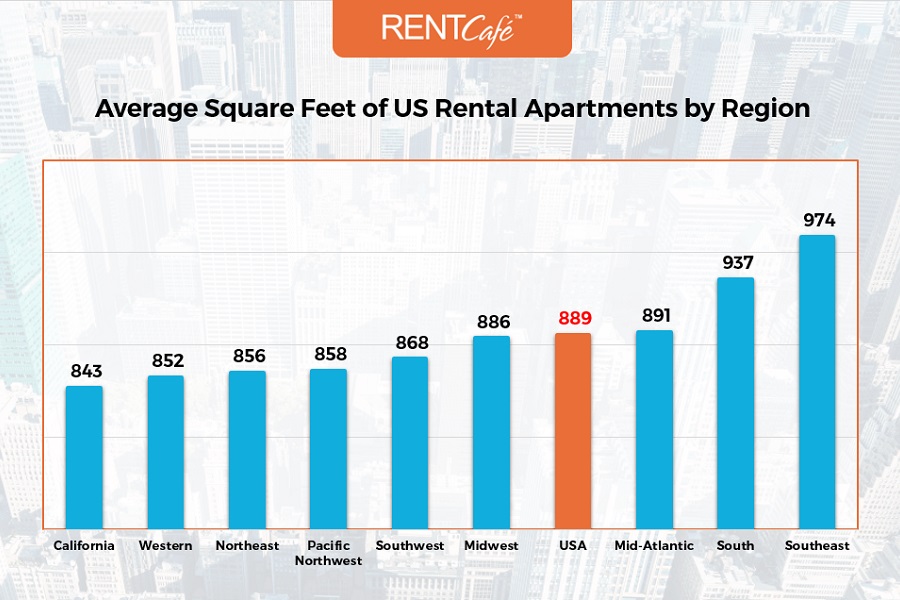 Texas excels with no less than four job-centric metros in the top 20 cities by average apartment size, but the star of the show is another is Southern business hub, Atlanta. The Big Peach has by far the largest two-bedroom apartments in the nation, and is second only to Chesapeake, VA when it comes to one-bed units.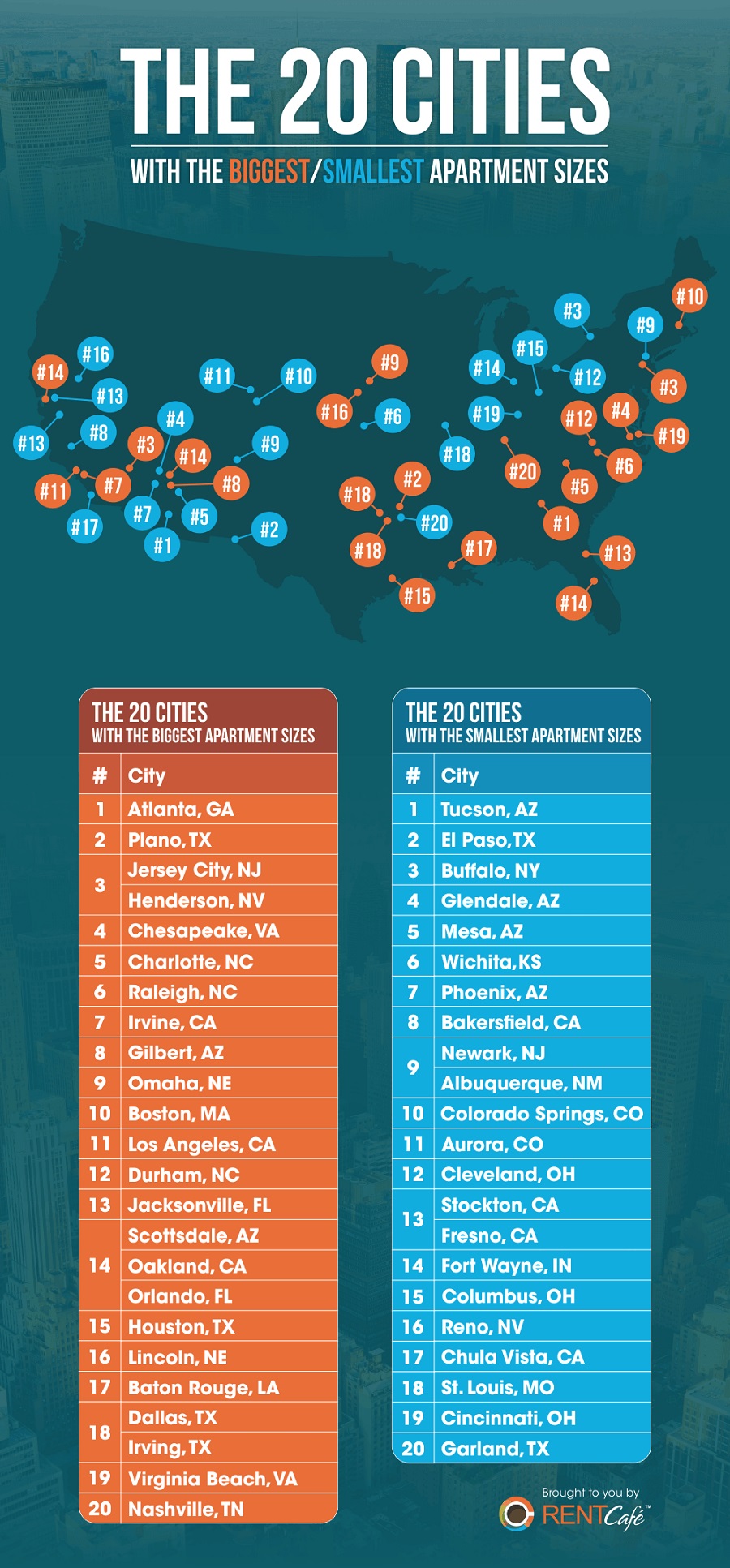 Western markets dominate the other end of the size spectrum. Three Arizona cities, Tucson, Glendale, and Mesa, are in the top 5 cities with the tiniest apartments. There are also a number of California cities with smaller-than-average apartment units.
Less Space — Larger Rents
The shrinking apartment sizes, however, don't translate into lower (or at least stagnating) rents. Apartment rents are growing on a national scale, breaking record after record with each passing month. Yardi Matrix data shows that the national average monthly rent was $1,204 in May, which is a historic high.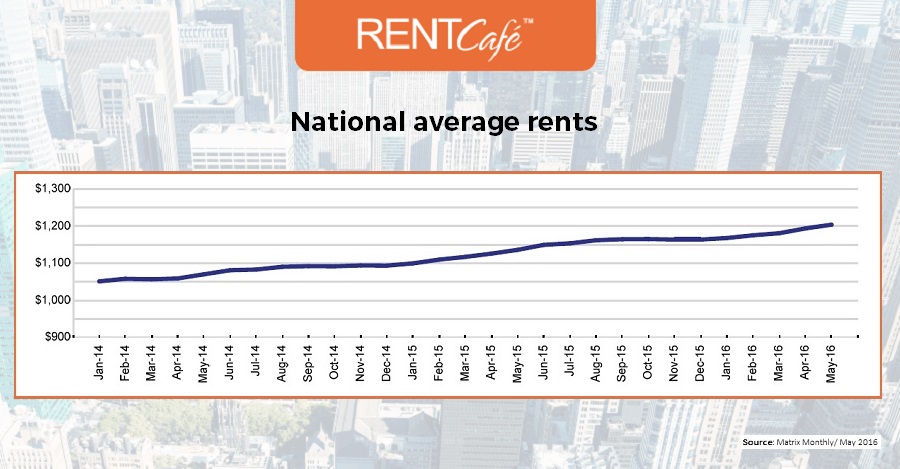 Top photo: Shutterstock / Suwicha