Development anywhere in the word is now unthinkable without at least a substantial nod towards sustainability. As its 2019 edition proved last week, MIPIM has positioned itself at the forefront of the drive towards responsible sustainable development.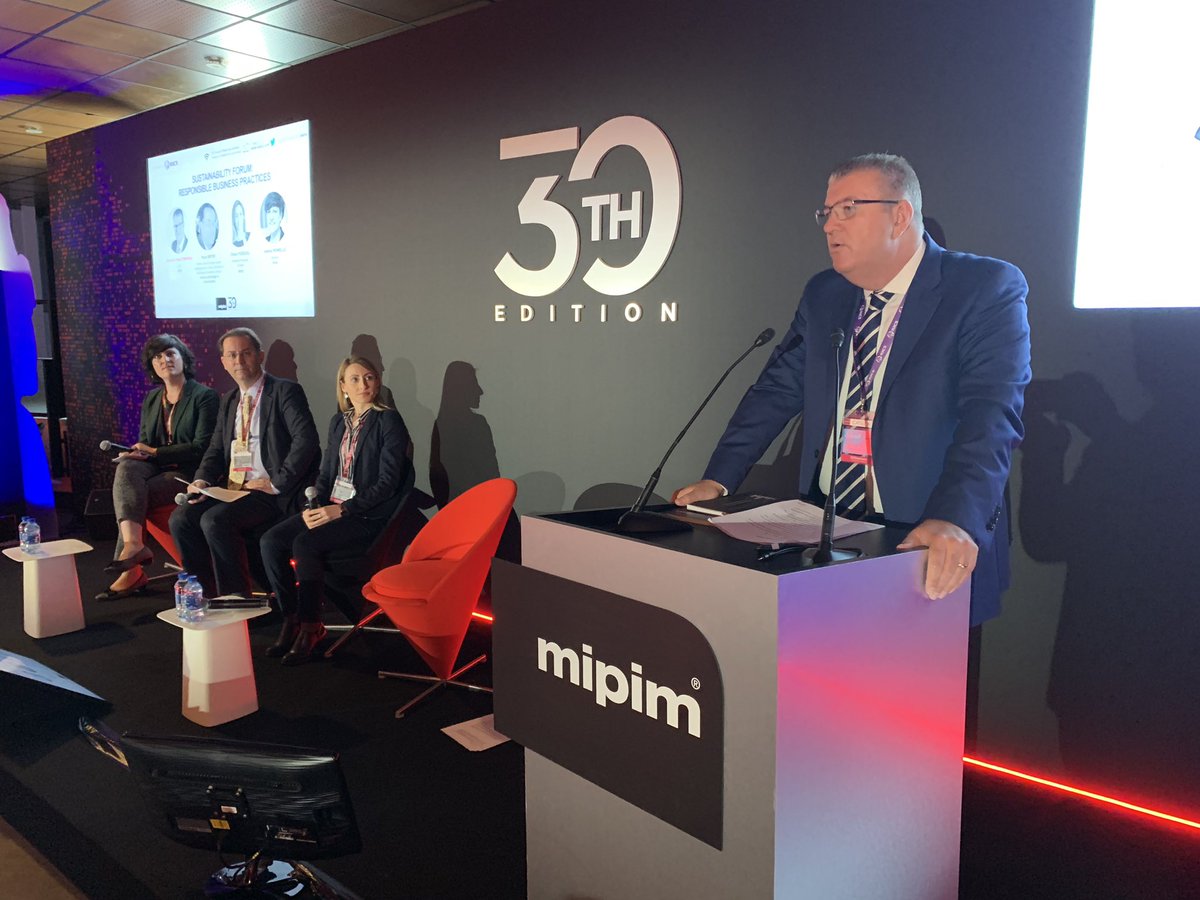 MIPIM's first Sustainability Forum notably included a Responsible business practices panel, with RICS' Chief Executive Sean Tompkins (right), who presented Chiara Pozzuoli of RWDI Consulting, Regis Meyer, advisor to the French Minstry of Ecological Transition, and Joanna Rowelle of Arup.
"Responsibility in business involves acknowledging environmental considerations in the long term," said Pozzuoli, identifying 3 pillars: 1. Mitigation & green buildings, ensuring we're minimising impact 2. Adaptation and residency 3. People: ensuring end users' comfort.
Rowelle, for her part, looks at the social aspect of sustainability: "there's a strong link between built environment and people and place, so job creation, how people are impacted, and sustainable outcomes for buildings we're developing," she said.
As for the circular economy, Meyer said the French government was looking into whether "existing buildings can become a material bank for future buildings", and added that there were also 3 pillars in this domain. Namely: 1. Constructor responsibility, as a lot of material is not reused 2. Waste analysis before demolition 3. Technical rules to recognise potential of reused materials.
Real estate investors should get ahead of the curve when it comes to sustainable finance regulations and environmental, social and governance (ESG) reporting, according to Amelia Slocombe, managing director and head of legal at the Loan Market Association.
The European Commission intends to bring forward a range of measures, including establishing a unified classification system of sustainable economic activities; improving disclosure requirements on how institutional investors integrate ESG factors in their risk processes; and creating a new category of benchmarks that will help investors compare the carbon footprint of their investments.
However, rather than wait for the new regulations to be implemented, Slocombe said that it makes sound commercial sense for investors to adapt their strategies in advance. "Commercially, it could be beneficial now, because if you're borrowing money the terms could be more attractive if you get ahead of the game before these standards are actually legally required. Banks these days are much keener to lend on better terms if you can show that your building is green."
Sustainability is the new normal and MIPIM saw a slew of state-of-the-art sustainable projects. One of the boldest projects planned for Tokyo is a 350 m tall building with a structure that will be 90% wooden, which the developer Nikken Sekei and partner Sumitomo Forestry hope will become the norm for high-rise construction.
The W350 project will involve the same quantity of timber that Sumitomo Forestry used in the construction of 8,000 new detached homes throughout Japan last year. According to Hideki Nose, an advisor at Sumitomo Forestry (above), W350 is part of the company's attempt to "change cities into forests".
According to the company, tall wooden structures are more environmentally friendly than conventional high-rise building materials, and a modular design will make them easier to maintain over time.
Architecht Tatsuya Hatori (above right) admits that there is still much work to be done before the W350 Project is realised, but as he points out, just the process of moving forward on such an ambitious undertaking helps make people see something they didn't imagine before, in this case wooden high-rises.
"When you start out with something difficult," he said during an interview in the company's Tokyo headquarters, "it eventually becomes easier." Nikken's expertise has been developed over a century of providing design solutions for specific circumstances, mainly in the commercial building sector. "You have to look at the business aims and the space," says Hatori. "If it's an office building, you have to think of ways to attract tenants that may be different from other office buildings."
Sustainability starts with design. Good design should be at the forefront of the move towards inclusive and sustainable urban environments, according to Alexandra Hagen, CEO of Swedish-based White Arkitekter, one of Europe's leading architectural firms. At MIPIM, Hagen said making cities sustainability and inclusive should be the design watchwords of developers and architects.
"We work with clients, communities and consultants to create inclusive, resilient architecture that inspires sustainable ways of life. Our vision is to design a better built environment with people in focus, and to innovate sustainable ways of living. Embedded in our work is a commitment to sustainability in all its forms, underpinned by practice-based research."
The technological components of construction are becoming increasingly sustainable. Developers need to not only consider the energy savings but also the health and wellbeing benefits of better working conditions when considering new facade technologies, according to Olivier Gareil, director, business unit Europe and Middle East for SageGlass.
The company's glass technology automatically tints depending upon external conditions. As well as providing protection from heat and glare it also means improved wellbeing and productivity benefits for a building's occupants.
"It's something that's not just an architectural feature but is something that changes the comfort of the building. It keeps it cool and comfortable and keeps the outside transparent, avoiding losing the connection to the outside," Gareil said.
"The glass saves up to 25% of the building's energy so it's easy to convince investors, but the bigger benefit is from the wellbeing and comfort it brings to people," he said. This includes better energy efficiency and improved productivity which can make such buildings more rentable — and investors that get the wider picture will reap the most benefits from the technology, he said. "There are more and more studies that try to quantify the benefits of comfort and wellbeing." 
This is the first in a six-part series of post wrapping up MIPIM 2019's key trends. Watch out for the next one next week!
Top photo: Futura Park, the fully-green winner of the Best Futura Mega Project prize at this year's MIPIM Awards