Did you know that by 2015, gamification will be the primary mechanism used by 40 percent of Fortune 1000 companies to transform business operations?
What better media than gaming technologies to facilitate urban & real estate projects' communication?
MIPIM participants will be in for a treat this year, as new innovations in real estate such as gameification, will be on show at Cannes for the 1st time ever.  In partnership with MIPIM, ENODO, a company providing 3D graphics composed of qualified architects and 2D and 3D graphic designers, will reveal Double Bind, the first ever real-time 3D game for the real estate industry. Double Bind will offer a unique experience at the heart of where the transaction of the business world and the interactivity of video gaming converge.
Via a partnership with the German company CRYTEK, ENODO disposes of one of the most powerful game design software on the market, developed by a team of 500 people for the production of blockbuster video games. The game Double Bind is designed as a bridge between two worlds, with only one purpose: to question this inconsistency, show that the mechanisms governing the world of video games are powerful and will revolutionize the way to understand the projects, their development their communication.
"What we're seeing in games is art at a world-class stage design that is almost unmatched anywhere else. it has been very exciting to me to see so many ideas that integrate social good and efforts to make the world a better place into games."
Al Gore, former vice president and co-founder and chairman of generation investment management"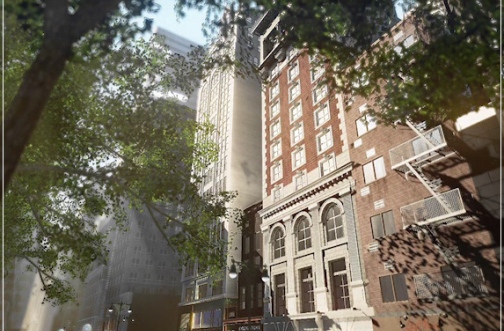 The game will kick off 12 March on level 01/Aisle 1 in the Palais des Festivals in the Double Bind Interactive Lounge
The Location: Bryant Park, New York City
The Mission: Re-Build the Park establishing your own delicate balance of "Fun" and "Green" elements whilst juggling various constraints presented to you in the game.
The Winner: He who has collected the most points after 3 days of play will receive a FREE project demo in 3D designed by ENODO as well as a pass to MIPIM 2014!
Check out the video trailer of Double Bind!
[youtube]G-SZXxirGtg[/youtube]