It's an exciting time to be investing in Britain
The Right Honourable Lord Maude of Horsham, UK Minister for Trade and Investment (top photo), opened MIPIM UK today with a vibrant call for continued investment in the British property sector.
Why should investors choose the UK as opposed to other countries? The UK is the "easiest place to do business" of all G8 countries, he stressed, adding that it is a "startup heaven", which supports innovative companies with initiatives like Catapult.
"We're continuing to cut red tape and bureaucracy, to provide a warm welcome" to non-British talent, said Horsham, pointing out that the UK's corporation tax rate is one of the lowest in the world, and is due to decrease further soon.
It's not surprising, then, that the £1 trillion mark of foreign investment in the UK was passed last year; but "we're not resting on our laurels," insisted the minister. "We want foreign investment to support regeneration," including smart cities, said Horsham.
Use this event to learn about dev'ment opportunities of which Britain abounds, @UKTradeMinister told #mipimUK today pic.twitter.com/itKFMhWwJT

— MIPIMWorld (@MIPIMWorld) October 21, 2015
Later on, a high-level panel tackled a pressing issue: What's the plan to increase supply in the housing market?  Moderator (left to right) Colin Stanbridge, of the London Chamber of Commerce & Industry, welcomed Gary Yardley of Capital and Counties (notably owners of London's Earl's Court); Ben Rogers of Centre for London; and Richard McCarthy, of Capita, for a frank, London-focused debate.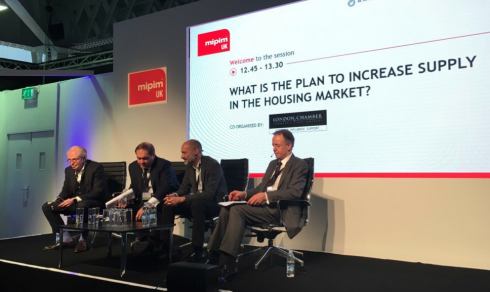 Each speaker was asked to present their solution to the UK capital's ongoing housing problem. For Yardley, it is quite simply "courageous politicians. They can't put London's housing problems in the 'too difficult' box. They must make sure things go forward, for example by encouraging public-private sector joint ventures, and sometimes by forcing these issues." He cited the example of Capital and Counties' partnership with TFL (Transport for London) for Earl's Court. It took four years to put in place, he said, "but it works, and I want to do that sort of thing again." Rogers argued that there was a "strong case for having extra bands on property tax, then using those funds to invest in new housing." The strong link between housing and transport needs was also a recurring theme of the panel, because, as Rogers put it, "without investment in transport, we won't get investment in housing." He asked, in that case, why do "people over 60 get free transport?" For McCarthy, the solution is "not about large sites, it's about more sites. We need new homes targeted at those who want to get into home ownership in London. More rapid release of public sector land is also needed. That can happen in different ways, for example by fast-tracking smaller sites" and not letting larger ones slow down this procedure, he said. The panel also discussed affordability, a key issue in London. "Housing associations have an important role to play in building affordable projects," said McCarthy; "we need to see affordable rent as part of the solution." Yardley agreed that "people have a right to stay where they're living," stressing that "if you can live in a place like Earl's Court now, you can afford to be there in the future. It's an equation," he said, "and in that equation I have to create places Londoners can afford to live in." Finally, the panel returned to the role of politicians. "The Mayor of London's job is to make the system work, which means they (local government) can't run it," said McCarthy. "Let's agree the policy box within which we can operate, but deliver the headline results you want."
Ben Rogers from @centreforlondon : responsibility for house building should be fully devolved to Mayor #MIPIMUK pic.twitter.com/53F8bPnlxw — London Chamber (@londonchamber) October 21, 2015
The day's last panel tackled "The housing shortage and rising inequality" with speakers (left to right) Earle Arney of Arney Fender Katsilidis; Jon Gooding, of Dolphin Living; Hilary Burkitt, of Shelter; and Martin Skinner, of Inspired Asset Management. Lynne Michael, of London South Bank University (far left), moderated.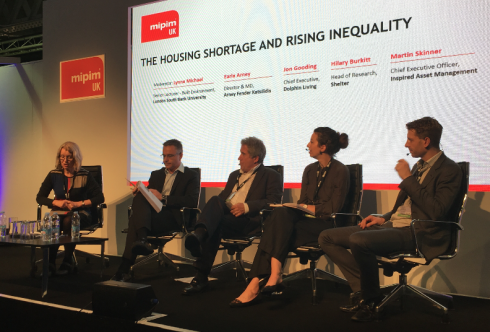 Architect Arney began by affirming that "we don't have a housing crisis: we have a opportunity. A once-in-a-generation opportunity." He then went on to debunk myths, notably about density, which he argued is not a problem in the UK, which is only the 51st most densely-populated country in the world. "Design, not density, is the problem," he said, affirming that if London built our to Paris densities, 30 million people could be housed. So, he affirmed, "we need to rethink planning framework, processes and resources" to make this happen.
Gooding, of housing charity Dolphin Living, accepted that there is a housing problem, and that it can't be ignored. "How can we say building super-prime properties in Mayfair creates a ripple effect that helps people in Hackney on £20-22k/year? Research shows it's better to keep lower-paid workers in the city. So we need more housing, but it has to be affordable. We need to be brave, and talk to the government with a single voice."
Burkitt, of charity Shelter, agreed that "we have a big affordability problem. Housing costs are rising faster than wages. The biggest bank has become the bank of Mum and Dad; but 60% of people in the UK don't get financial help from their parents. We've even found that people are paying rent with credit cards; that's not a sustainable solution." So what, then, is the solution? Once again, "we need to be building more affordable homes!" said Burkitt. "It's not rocket science, it is doable."
Skinner, of developer Inspired Asset Management, provides exactly that. But what exactly is "affordable"? "I've always based my work on average salaries," said Skinner. "When I started, most people in London could afford £500/month. Today, you can buy one of our apartments with a £25k deposit and pay £750 a month (the difference versus 14 years ago is, of course, inflation). It's not a solution for everyone; rather for working professionals aged around 25-45." Whilst Gooding expressed doubts as to the true affordability of such schemes, Skinner insisted that reducing unit sizes, as with student housing, is one way to increase supply. And as such, worth a try…
Click here to read an exclusive interview with Earle Arney, "Addressing the housing shortage is easy"
Read more posts from MIPIM UK 2015