Note to readers: This article was written on 24 February 2020. 
The state of the economy – whether in high-tech or services, private or public – affects how cities and urban areas evolve and develop around the world.
In their Global Cities report, forecaster Oxford Economics looks ahead, over the next two years, to see what lies in store for the world's cities. They predict that two-thirds of the world's leading cities will have weaker growth, with certain cities performing better than others.
Two other factors with a strong influence on urban development are: the world shortage of housing with the shift in demographics and the effect of climate change.  As the Cushman & Wakefield report Winning in Growth Cities 2019/20 says, it's about making cities "climate resilient".
Eastern European cities are setting the pace in Europe
Warsaw has been the fastest-growing city economy in Europe over the past two years, growing by an average annual 5.5%, followed by Prague at 3.9%, says the Global Cities report by Oxford Economics.
With lower costs in Eastern Europe acting as a magnet for inward investment, Oxford Economics expects growth to reach an annual 3.6% in Warsaw in 2020 and 2021 and 2.4% in Prague.
Elsewhere in Europe, Athens has bounced back, with an expected growth rate of around 2% for 2020 and 2021 – the same level as for Madrid, another city among the fastest growing in economic terms in Europe over recent years.
 "Having seen its growth fall sharply, London should see a modest improvement in the next two years, performing broadly in line with other major cities, where once it easily out-performed." – Oxford Economics
MIPIM 2020 is holding the CEE Investment Summit, more details soon.
Four Asian cities to join the world's top ten by 2035
Oxford Economics expects the total GDP of Asian cities to overtake that of the combined GDP of cities in Europe and North America by 2035. This is spurred by the continued growth of China, even though the pace of growth is expected to slow.
Four Chinese cities emerge in the world's top ten for GDP by 2035: Shanghai, Beijing, Guangzhou and Shenzhen.  However, New York, Tokyo, Los Angeles and London remain the world's largest by GDP.  Cities falling out of the ranking from 2019 are Osaka-Kyoto, San Francisco, Dallas and Washington.
Looking at 2020-21, the economy of the Indian city of Bangalore is expected to grow by 9.9% and Ho Chi Minh City by 8.4%. Overall, Indian cities are expected to grow faster than Chinese cities, given India's strong population growth.
US city stars fall back in line
Annual economic expansion in San José – the capital of Silicon Valley – reached 5.7% over the past two years, driven by strong growth in the tech sector, says Oxford Economics. San Francisco (up by annual average of 4.4%) and Seattle (4.8%) have also been strong performers. This compares with the US annual average of 2.1% a year in 2018 and 2019.
The next three strongest performers in the US are all in Texas: Austin (growth of high-tech and advanced manufacturing); Houston (recovering from damage of Hurricane Harvey and adjusting to lower oil prices) and Dallas (diverse economy and plentiful cheap land).
"In general, the large west coast and southern cities are still likely to be among the stronger North American performers in 2020-21, but we forecast that their growth rates will be similar to, rather than markedly stronger than, growth in other large cities," says Oxford Economics
One of the reasons for the slowdown is the "high living costs stunting growth".
A global consumer powerhouse: Africa
 In a separate report, Oxford Economics highlights Africa as emerging as a "global consumer powerhouse. This is primarily driven by the services sector. However, it is important to see Africa as a continent of 54 different countries.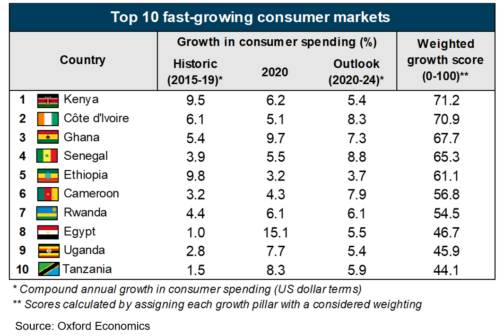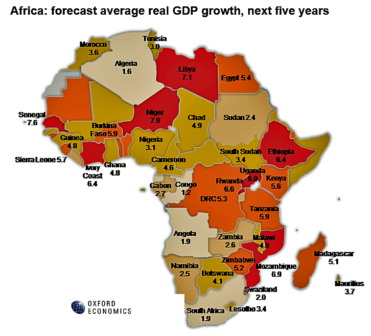 Join the MIPIM session, 'Focus on African-centric Projects'
Two-thirds of top cities expected to have slower growth in 2020 & 2021
Overall, Oxford Economics expects two-thirds of the world's top 900 cities to have slower economic growth over the next two years. A major reason is the slowdown in global trade. Cities particularly affected are those with large manufacturing and traded services sectors.
Other factors at play, says the global forecaster, include the need for car manufacturers in Europe to adapt to new emission performance standards and to changing demand – towards electronic and hybrid vehicles.  This is affecting cities such as Stuttgart, home to Mercedes-Benz, where growth is predicted of 1.1% a year over the next two years, compared with 2.1% over the past five years.
Globally, Oxford Economics does not expect economic growth over the next five years to vary greatly as a result of the coronavirus outbreak. "We would expect the impact from the virus to be concentrated in the first half of 2020, and for this to be followed by a catch-up in growth," says Oxford Economics.
"However, this assumes that the scale of the outbreak does not escalate dramatically into something with more drastic consequences."
The global issue of housing
Around 2.5 billion more people will live in cities by 2050.  Much of this urban growth is predicted to be in emerging economies, as people move to cities in search of jobs and in many cases to flee the effects of climate change.
However, housing is a global issue, effected in mature economies by demographic and social shifts and housing increasingly seen as a commodity. "In rich countries, and especially in the English-speaking world, housing is too expensive, damaging the economy and poisoning politics," writes The Economist.
Join the MIPIM session, 'Focus on UK: Housing options and innovations – How do we build and invest in what people need, want and can afford?'
Creating resilience for climate change
Being sustainable is not only about decarbonizing, but also about building climate resilience into urban areas and real estate portfolios, says the Cushman & Wakefield report Winning in Growth Cities 2019/20.
"The most vulnerable cities to climate change will often be those with the least resource to meet this problem" – Cushman & Wakefield
"It needs to be remembered that the most vulnerable cities to climate change will often be those with the least resource to meet this problem," says the report.
"Similarly, it will often be the less wealthy districts of richer cities that are most at risk. This mismatch in resource allocation between and within cities will be a source of growing tension."
You may be interested in the following MIPIM sessions: 'MIPIM Sustainability Forum: resilient & liveable cities' and 'Addressing Climate Change & Environmental Issues'.
Top Image: Getty Images – Boonyachoat