Dubai will take one big leap in 2020 when it opens the doors for the Middle East's first ever Expo – and the first World Expo since Milan in 2015.
Over the last half century, Dubai has undergone one of the world's most spectacular urban transformations, reflecting a philosophy of 'build it and they will come', as Justin Marozzi refers to 20th century Dubai in Islamic Empires: 15 Cities that Define a Civilization.
Speaking at the MIPIM session, Dubai Fast Forward: Innovation & Investment, Nadimeh Mehra, Vice President, Legacy Development & Impact, Expo 2020 Dubai, said: "We are constantly striving to make Dubai a better place to live, work and explore. We are a young country, and we have a lot more to do and a lot more to contribute to the world."
The legacy of Expo 2020 Dubai
At the time when oil was discovered offshore in 1966, Dubai made its money from pearling and trading; it was home to 60,000 people.  Today the emirate has three million residents representing 200 nationalities, and close to 150 skyscrapers that pierce through the horizon of the Persian Gulf – including the world's tallest building, the Burj Khalifa.
The theme for Expo 2020 Dubai, which opens next October, is Connecting Minds, Creating the Future. Over 80% of the buildings and infrastructure, including digital infrastructure, built for Expo will live on in a new, mixed-use global innovation hub, District 2020.
The idea is to provide a "collaboration platform" to place companies of all sizes alongside tech start-ups and companies.
With oil now accounting for only around 2% of the economy, Dubai is looking to carve a new future – beyond the luxury and skyscrapers for which it is so well known. The idea behind District 2020 is to provide a "collaboration platform" to place companies of all sizes, across key growth industries, alongside tech start-ups and companies.
Built on a circular grid, District 2020 has low-rise buildings and pedestrian-friendly streets , and is designed to reflect the local feel and social connection of the suk, the traditional local market.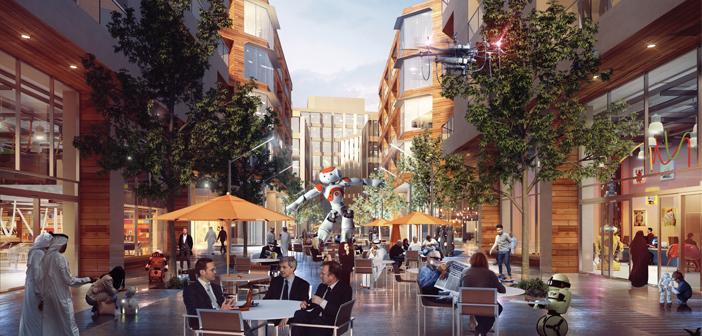 The district will offer opportunities for third parties to develop 2.3m sq m of gross floor area, broken down into:
Offices 33%
Community facilities 30%
Residential 24%
Hotels 5%
Retail 4%
Education 4%
It will also include 45,900 sq m parkland, 10km of cycling tracks, 5km of jogging tracks, the Dubai Exhibition Centre and the Children & Science Centre.
District 2020: a mixed-use global innovation hub
The vision of District 2020 reflects the World Expo themes of mobility, sustainability and opportunity.  Designed for a community of 90,000 people, the district will have easy access by road and public transport; legacy buildings from Expo that meet or exceed the LEED Gold certification; and a mix of spaces to provide opportunities for living, working and for leisure.
District 2020 will focus on the ambitions mapped out in the Dubai Silk Road Strategy
As a business location, District 2020 will focus on the ambitions mapped out in the Dubai Silk Road Strategy, designed to consolidate Dubai's status as a strategic link in global trade. Siemens AG is one of the first tenants to sign up for District 2020, with the announcement that it will open an airport, cargo and port logistics centre in the new district.
Located within an hour's drive of both Dubai and Abu Dhabi, District 2020 is linked to the centre of the city by the new 15km Route 2020 metro line, which – once the line is finished – will be one metro stop away from the new Al-Maktoum Airport.
Once fully operational, Al-Maktoum Airport is set to be the biggest airport in the world.
Once fully operational, Al-Maktoum Airport is set to be the biggest airport in the world, welcoming 160 million passengers and 12 million tonnes of freight.  Two-thirds of the world's population live within an eight-hour flight of Dubai, with Dubai International Airport already handling 89 million passengers and nearly one million tonnes of freight a year (2018 figures).
Also nearby are the deep seaports of the United Arab Emirates, including Jebel Ali, the largest cargo port in the Middle East.
Al Wasl Plaza: an iconic legacy
As with any new district – from Vessel for Hudson Yards in New York or the Gate to the East in the industrial park of the Chinese city of Suzhou – an iconic or landmark building is needed for a new location to stand out on a global stage.
For District 2020, Al Wasl Plaza – the historic Arab name for Dubai, meaning connection – is an open, domed space that provides shade by day and transforms into a 360-degree projection screen by night, visible from inside and outside the dome.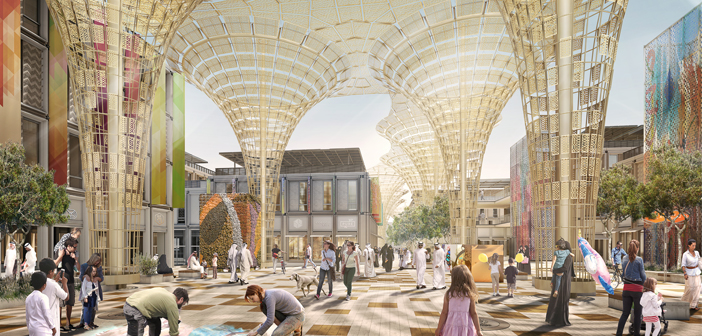 The plaza is designed by Chicago-headquartered Adrian Smith + Gordon Gill, who have also worked on the District 2020 master plan.
District 2020: part of smart Dubai
District 2020 is also linked to the emirate's ambition to make Dubai the smartest city in the world. Currently it is ranked No 45 in the IMD Smart Cities Index 2019, above the likes of Seoul and Paris.
An example of smart technology in District 2020 is the photovoltaic fabric covering the main walkways. The fabric acts as solar-powered sunshades, and captures sufficient sunlight, together with photovoltaic panels on the building facades, to generate around half of the district's energy requirements.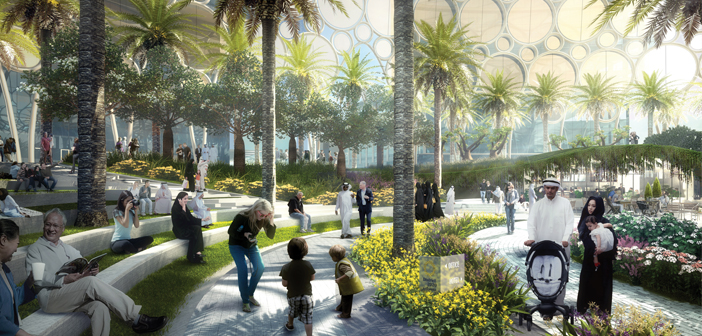 Such ambition is also reflected in government initiatives such as 10X, designed to propel the city ten years ahead of other global cities in all key sectors.
Nadimeh Mehra of Expo 2020 Dubai said at MIPIM: "Dubai already has a strong backbone of small and medium-sized enterprises, and now we need to explore that further, to ensure the start-up and innovation element is there. That is what we are looking at in District 2020. We want to make sure that collaboration happens between industry and tech."
Dubai: economic & property update
Economic growth in Dubai's economy is set to be around 1% for 2019 – the weakest pace of growth since the global financial crisis, reports Capital Economics, which estimates growth for 2020 at 2%.  In an independent report, EY predicts that Expo will add a further 1.5% to Dubai's GDP.
Residential property prices fell by around 6.6% y-on-y in October, Capital Economics quotes from the REIDIN Index.
Knight Frank puts the average fall in Grade A office rents in the third quarter of 2019 at 5.9% y-on-y.
A key message from the MIPIM session was that the price corrections were part of cyclical movements; it was all about choosing the right location and adapting to market demand, said one of the panel members.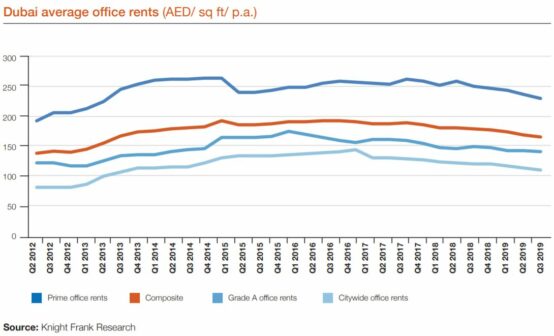 Just over 790,000 sq m of new office space is due to come onto the market by 2021, according to Knight Frank. Although this may cause rents to drop slightly in the short run, says the property agent, the new stock is welcome, otherwise the lack of institutional-grade stock across the city was "likely to be detrimental to the development of Dubai in the long run"