As the world becomes increasingly urbanised, buildings are rising ever higher, leading to city skylines resembling "repetitive vertical stacks of needles", said Dan Cheong, Partner of architectural practice Büro Ole Scheeren (Büro-OS).
When it comes to designing sustainable buildings, architects have tended to focus on energy efficiency and technology. Socially sustainable buildings, meanwhile, said Cheong, focus on integration and exchange, and are very much socially driven.
"We see architecture as a tool for creating and configuring spaces to build communities; to encourage social interaction and cohesion in highly dense environments" – Dan Cheong, Büro-OS – Speaker at the MIPIM Asia Summit in Hong Kong in November.
Real estate consultant Cushman & Wakefield writes in its report Societal Change: Outlook 2020: "As a society, we are placing greater importance on the social value of space. This poses a major challenge to the traditional financial-led business model of private property companies."
Asia: the land of high-rise architecture
Büro-OS has offices around the world, including in Asia. The practice's Guardian Art Center in Beijing won the Bronze Award for Best Infrastructural Development at the MIPIM Asia 2019 Awards.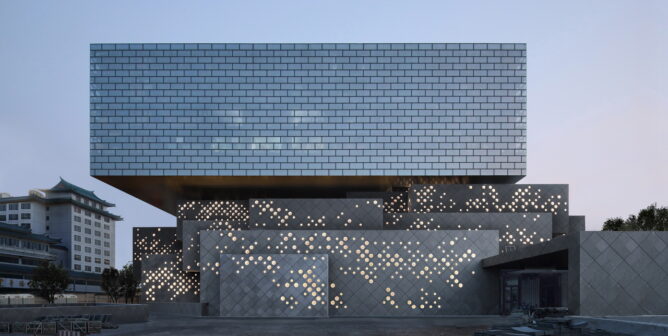 Picture caption: Guardian Art Center by Ole Scheeren © Buro-OS. Photo by Iwan Baan
For building high-rises, Asia is where it is happening. The region accounted for 87 of the 126 buildings of over 300m completed last year around the world – with China alone accounting for nearly half of the total, according to the Council on Tall Buildings & Urban Habitat.
Historically, high-rises have been conceived as individual, isolated towers that often favour exclusion over social connection. Büro-OS has looked at ways to create a new relationship with verticality: not to go for sheer height, as next year someone will be higher than you, said Cheong, but for a new relationship with the city, together with creating city-defining buildings that are strongly embedded in the urban fabric.
Asked by the audience about the financial viability of creating such iconic projects, Cheong replied: "If a project creates true qualities and is positioned carefully, they are in a more competitive position in the long term." The other way to keep costs checked, said Cheong, is to have part of the project as "really special, really different" and the rest modular, which in turn creates flexibility. "Sometimes the modular also creates a unique distinctiveness for the architecture," he added.
"We live in a world where the boundaries are increasingly blurred; heterogeneity and interconnectedness is much more important than a single block of architectural construct" – Dan Cheong, Büro-OS
Büro-OS is known for its signature style of stacking, overlapping and intersecting spaces to encourage flow. "We live in a world where the boundaries are increasingly blurred; heterogeneity and interconnectedness is much more important than a single block of architectural construct," said Cheong.
At MIPIM Asia Summit, Cheong shared examples of several projects in Asia designed by Ole Scheeren and Büro-OS with social sustainability in mind.
CCTV, Beijing: an interconnected loop
Described by Lonely Planet as "architectural fantasy that appears to defy gravity". This 234-metre high HQ for China Central Television has 51 storeys. Two towers connected by a 75-metre cantilevered section lean against each other. Designed by Ole Scheeren together with Rem Koolhaas at OMA. Completed: 2012.
Challenge: To create an interconnected loop of communication, exchange and togetherness within the same organisation.
Solution: The creation of an arterial system to bring occupants together, with technical and social clusters intertwined to create a loop, which is also part of the expression of the building.
Client: China Central Television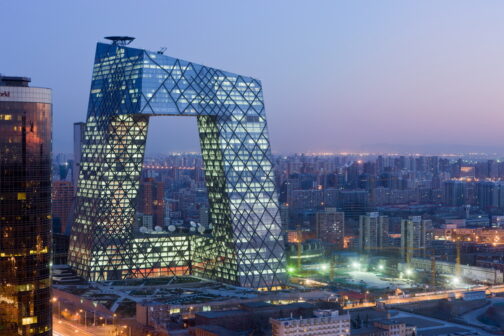 Picture caption: CCTV by Rem Koolhaas and Ole Scheeren © OMA. Photo by Iwan Baan
DUO Twin Towers, Singapore:  creating spaces that flow
Two sculpted, honeycomb-patterned skyscrapers. The taller, 186m tower is residential and the 170-metre tower contains offices and an Andaz Hotel. The shape of the towers is determined by carving out space for new circular and semi-circular public and civic plazas. Completed: 2018.
One of the challenges: giving space back to the city by creating buildings that "talk to each other" and with spaces connected to the surroundings.
Solution: The towers are defined by the spaces they create around them. In the design, Büro-OS carved away adjacent circular and semi-circular plazas at ground level to "start to make sense of something that did not make sense", to create a connection with the surrounding buildings and a coherent overall urban figure. The curvilinearity of the project also fosters pedestrian and environmental flows, with the project designed for maximum natural ventilation.
Client/Developer: M + S, owned 60:40 by Malaysia's strategic investment fund, Khazanah Nasional Berhad and Singapore's state-owned investment company, Temasek Holdings (Private) Limited.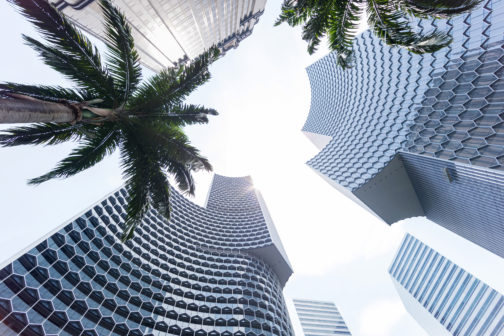 Picture caption: DUO by Ole Scheeren © Buro-OS. Photo by Iwan Baan
MahaNakhon Tower, Bangkok:  creating a sense of scale
A 77-storey 'pixelated' tower with cuboid cutaways spiralling up the façade to create a 3D effect.  The tower includes a boutique hotel, 200 serviced apartments by The Ritz-Carlton, and restaurants and luxury shops on the lower levels.  The roof top includes a glass-floored Observation Deck and Sky Bar. Completed: 2018.
One of the challenges: to bring the life of the city at ground level – adjacent to Chongnonsi Sky Train Station– up through the building, to the top floor. A tower linked to the surrounding community.
Solution: The cuboid cutaways create a sense of scale, "projecting the internal life, the smaller scale of the inhabitants out to the city". The public Observation Deck brings the outside city up to the very top floor. At ground level, a cascade of indoor and outdoor terraces, with lush tropical gardens, a public square and plenty of social spaces, help meld the tower with the surrounding area.
Client/Developer: PACE Development.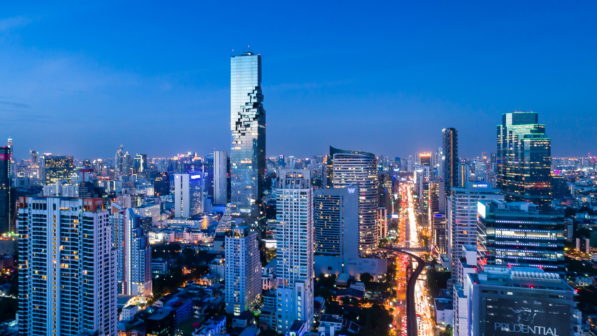 Picture caption: MahaNakhon by Buro Ole Scheeren © Buro-OS. Photo by Srirath Somsawat
The Interlace, Singapore:  green spaces to support the community
31 apartment blocks, each six storeys high, stacked horizontally and arranged in a honeycomb pattern around six hexagonal courtyards.  Outdoor spaces range from private balconies, private yards, semi-private sky gardens and very communal courtyards. The project created more green exteriors than if the space had been left as virgin greenery. Completed: 2013. Developer: CapitaLand Residential.
One of the challenges:  To introduce green space to support social interaction
Solution:  Vertical isolation is turned into horizontal connectivity with a series of courtyards landscaped in different ways, from the Water World to the Bamboo Forest and Theatre Plaza, to become a navigating tool for the residents.  "For us it is very important that for true community to exist we need spaces where people can meet, feel comfortable meeting each other, and also sometimes for them to step back and have some private moments," said Cheong. "It's about creating multi-layered green spaces to support social interaction and a sense of community."
Client/Developer: CapitaLand Residential.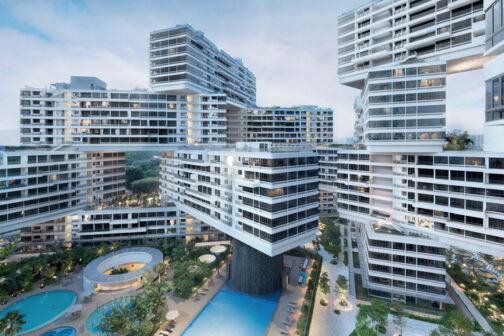 Top picture caption: by OMA Ole Scheeren. Photo by Iwan Baan
Top Image: Getty Images – zhuyufang