Beijing opened its new Daxing airport this September – a symbol of the economic and technological might not just of China but also of Asia.
Zaha Hadid Architects has designed the star-shaped airport to welcome 72 million passengers a year by 2025.  Customer service robots help with flight information and facial recognition is enabled for check-in.
The wealth of Asia's cities will outstrip the combined wealth of cities in North America and Europe by 2027 – Oxford Economics
By 2027, the wealth of Asia's cities will outstrip the combined wealth of cities in North America and Europe, predicts global forecaster Oxford Economics.
Across Asia, in Oxford Economics' Global Cities urban power league, Tokyo is set to hold onto its position as the world's second richest city in 2035, after New York, with four Chinese cities joining the top ten – Shanghai, Beijing, Shenzhen and Guangzhou.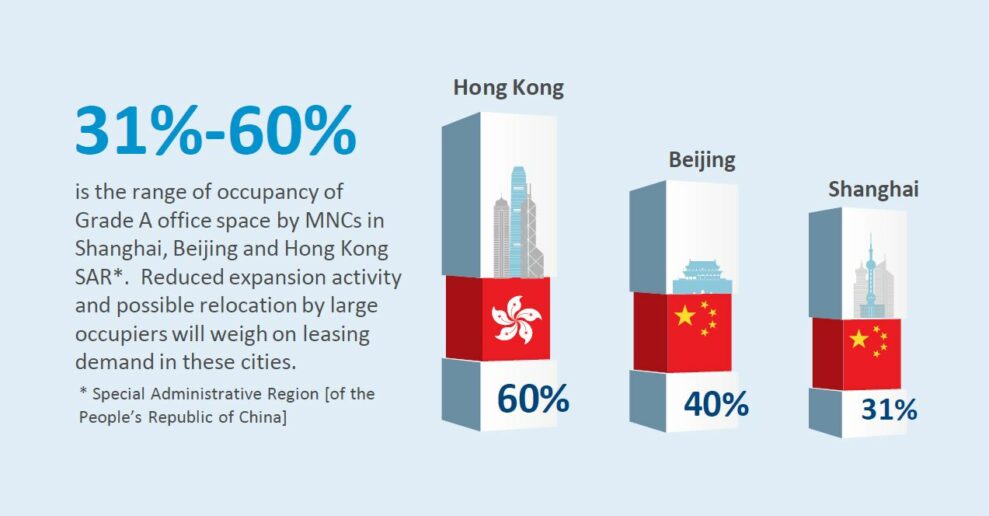 This upward trajectory across key economic and social indicators is the common thread in the region, says real estate services company Colliers International.
As Jin Young Choi, Managing Director & Head of Asia, Genii Capital Korea, commented in the MIPIM session on Investment in Asia:  "Asia is so vast, so large, so different."
"The question is no longer how quickly Asia will rise; it is how Asia will lead," says the McKinsey Global Institute discussion paper Asia's Future is Now.
Caution sets in but growth remains
2019 started on an optimistic note, says Terence Tang, Managing Director, Capital Markets Asia, Colliers International Singapore, which last month released the report A Pivotal Moment: Trends Shaping Asian Real Estate.  Interest rates were on their way down and signs were emerging of good relations between China and the US.
Roll on to early October 2019, the protestors are in the streets of Hong Kong and the effects of the US-China trade dispute are biting, as China and the US sit down for their 13th round of trade negotiations.
"The US-China trade wars are making investors take a more cautious, wait-and-see approach to investing in Asia," says Tang.  Despite this, Asia's economies are still seeing strong growth when compared with the slowing economies of North America and Europe.
Continued growth in intra-Asian investment will take total real estate investment in Asia for 2019 to a similar level to last year's record US$128.4bn – Terence Tang, Colliers International Singapore
Cross-border intra-Asian investment was up 3% y/y over the first half of 2019, reports Colliers. This was while international investment in Asia fell 33%, as US investors took their sights off the Chinese market, a favoured location for 2018.
Tang expects this continued growth in intra-Asian investment, spurred on by investors from Hong Kong, Singapore and South Korea, to take total real estate investment in Asia for 2019 to a similar level to last year's record US$128.4bn.
The international investors in the market at the present time, Tang says, are looking mainly at Japan, Singapore and Korea – as well as Australia.
Infrastructural projects help to drive growth
As fears of a global recession mount – although Oxford Economics does not forecast that global recession will strike, but caution against complacence over the risks – economic growth is being spurred on in Asia by the mushrooming of the middle classes, as rapid urbanisation continues, and by money pouring into infrastructural projects, says Tang.
Economic growth is being spurred on by the mushrooming of the middle classes and money pouring into infrastructure – Terence Tang, Colliers International Singapore
In China, together with Beijing's new airport, infrastructural projects include last year's opening of the world's longest cross-sea bridge, linking the mainland province of Guangdong with Hong Kong and Macau. "The benefits of the new bridge will spill over to cities connected to the Greater Bay Area in South China," says Tang.
In Singapore, Tang mentions the North-South Corridor project linking towns in the north to the city centre, while the Land Transport Master Plan 2040 aims to create a 45-minute city with 20-minute towns through the expansion of Singapore's rail network.
In the Philippines, Vietnam and Indonesia, the governments have committed a total US$500bn in much-needed funding over the next four years for transport and logistics projects, says Oxford Economics.
The Philippines tops Oxford Economics' Asian country ranking for constructions prospects, followed by Vietnam and Indonesia, with the growth rate for construction projects across the three countries averaging 19% y/y over 2019-23.
Asian investment: a volatile market with good returns
For global property investors, the question is whether they can be global without being in Asia, and in particular in China.
Tang warns that Asian markets are volatile, and not for investors looking for stable returns. "The regulatory framework, legal and financial issues tend not to be clear, although this does vary across the region," he says.
At the MIPIM session on Investment in Asia, one of the Japanese participants said that his clients preferred to invest in the less volatile markets of US, Europe and Australia.
MIPIM panellist Peter Ryder, CEO of Hanoi-based Indochina Capital, summed up the experience of working in an emerging market in Asia compared with the US: "In both, Vietnam and New York, there are 150 steps to take when doing a project – approvals, licences, permits. The difference is that in New York you know upfront 140 of these steps and the associated costs. In Vietnam, you're lucky if you know 20% of the steps and 10% of the costs."
International investors doing deals in Asia
One of the most active international players in the Asian investment market this year has been Allianz Real Estate, which – among other activity in the region – acquired 50% of a logistics portfolio in China with assets in Shanghai, Jiaxing, Foshan, Wuhan and Shenyang. The remaining 50% continues to be held by Vailog China and Gaw Capital Partners.
Rushabh Desai, CEO Asia-Pacific, Allianz Real Estate, said at the time of the deal: "This transaction is in line with our strategy of aligning our investments to mega-trends in the Asia-Pacific region. Demand for logistics in China is underpinned by growth in e-commerce, middle class accession and infrastructure build-out."
Other transactions by international investors in Asia over the past 12 months include:
Canadian investment group Brookfield Asset Management bought the mixed-use Greenland Huangpu Centre in Shanghai's Huangpu district from Greenland Group for a reported 10.6bn yuan ($1.5bn).
Swiss investment manager Partners Group, in partnership with a consortium of investors, boughtthe mixed-use building complex Dinghao Plaza in Beijing's ZGC area, known as the Silicon Valley of China, for US$1.34bn.
Canadian QuadReal Property Group acquired, as part of a consortium which included Gaw Capital Partners, the 25-storey Ocean Towers office building in People's Square in Shanghai.
Investors spread their gaze across Asia
With the US-China trade dispute, occupiers, especially of warehouse and industrial space, have been looking at alternative locations, with Vietnam and Indonesia particularly favoured, as well as Bangladesh for textile manufacturing.
Other cities attracting interest says Colliers include:
Singapore for high-tech companies – rents may be lower than in Hong Kong, but the city is comparatively small, with a small stock of office space.
Bangalore for big tech – ranked No 1 in Colliers' Top Locations in Asia for Technology, ahead of Singapore and Shenzhen. Hyderabad is also seen as increasingly attractive.
Tokyo for large finance occupiers – with an office stock seven to eight times larger than Singapore's.
Where's hot over the next 3-6 months
These are the investment markets that Tang will be watching over the next 3-6 months: the more mature markets of Japan, Singapore and Korea; the emerging market of Vietnam; and in terms of sectors – data centres, logistics and hospitality.
Markets to watch: Japan, Singapore, Korea, Vietnam… data centres, logistics and hospitality – Terence Tang, Colliers International Singapore
In Vietnam, Oxford Economics foresees a 15% y/y increase in hotel construction for 2019, while total construction in work done terms is expected to see average growth of 18% y/y over the next five years.
Sound bites from MIPIM's Investment in Asia session
"If you want to be a global player today, you can't ignore China. The challenge is to find the right strategy, said Laurent Jacquemin, Head of Asia-Pacific, Real Assets, AXA IM – Real Assets, who is based in Tokyo.
Hideki Yano, President & CEO of Sumisho Realty Management Co. Ltd, said: "Tourism is the game changer for the Japanese economy." Last year, Japan received a record 30 million tourists, which it hopes to boost to 40 million in 2020.
Farook Mahmood, Chairman & MD of Bangalore-based Silverline Group and World President of FIABCI International 2017-18, said that average yields in India were running between 7.5% and 9% on office and retail properties.  Together with the buoyant market of Bangalore, the markets to watch were Chennai, and Gurugram and Noida, both near New Delhi.
India is a whole new story in itself. The country is home to 17 of the world's top 20 cities for economic growth, says the Oxford Economics urban power league. This is despite remaining small in terms of GDP. Top of the list is Surat, in Gujarat, renowned for its diamond cutting and which in 2014 partnered with Microsoft CityNext to become a smart city.
TOP PHOTO: Image credit, Daxing International Airport: Hufton+Crow