Over the past 3 months, COVID-19 has triggered the worst economic crisis since the Great Depression. I published a detailed article on this here previously, in a post titled "The Super Economic and Social Depression of 2020." In the developed world, GDP declines in Q1 have not been seen since the global financial crisis of 2008-09. Q2 will likely see declines in GDP in the mid-teens to well over 20%+ for some developed countries. Unemployment rates have skyrocketed throughout the developed world with no near-term end in sight.
The hospitality industry has been decimated by Covid-19 and the resulting lockdowns across the globe. For some countries such as Italy and Spain, the hospitality industry represents as much as 15% of GDP and thus is key to their economic recovery. The sector as such faces many significant challenges both near term and longer term.
1. Re-Opening Challenges
As Vice Chairman of the GRIClub Global Committee on Hospitality, I had the recent opportunity to participate in a virtual meeting with senior hotel industry leaders and operators. Re-opening is the #1 near-term challenge facing the industry. How? What? When? – these are the questions at the forefront of C-suite executives and their operating staff.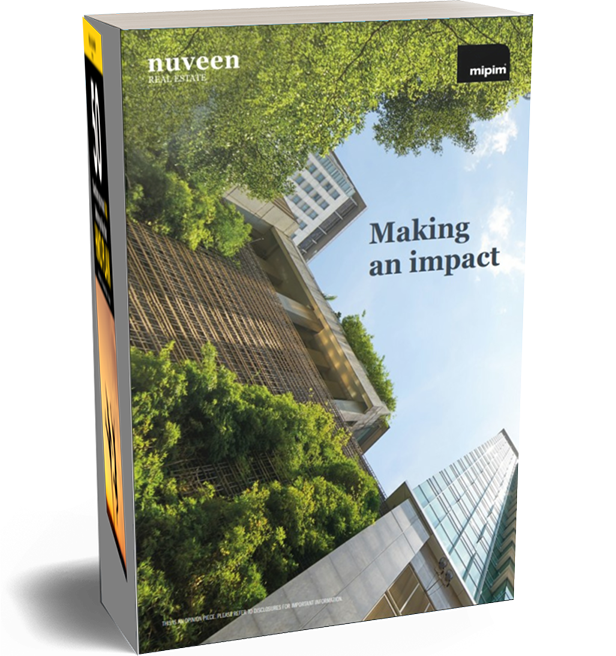 "Making an impact"- White paper
A new report by Nuveen
Discover how real estate can make a difference in society by going beyond the basic principles of ESG
2. Fixed and Variable Expenses
Higher fixed and variable expenses resulting from government mandated social distancing and cleaning ordinances are a very significant factor and varies depending on country and city. The cost could be upward of $10/key. In addition, staffing and payroll post furlough and redundancies are another major focus. Both factors will have significant implications on near term expenses and profitability across the industry.
3. Low Occupancy
Very low occupancy rates are a major concern for the industry as re-opening starts over the summer. Most operators require a minimum occupancy of 40% to simply break-even. At the height of the lock-down, occupancy rates were between 0% and 20% across the industry. Following re-opening, the best that can be expected will be occupancy rates between 40% and 65%, assuming a spike in Covid-19 cases doesn't lock down cities across the globe again. Relatively low occupancy rates likely will be with us for the next 12-18 months.
4. Pricing Elasticity 
Pricing is also a key issue as significant supply of hotel rooms comes on after the entire global economy has been shuttered for the past 3 months. Lower prices, a lack of significant demand and low occupancy rates do not bode well for revenues and profitability for the next 6-18 months.
5. Renewed Lockdowns
We are already witnessing spikes in COVID-19 cases in countries and cities that have re-opened too quickly and people that are not observing proper social distancing protocols. This can be seen in China, South Korea, UK, US, and Australia. The result is renewed lockdowns of cities with significant implications for the hospitality industry trying to make an attempt to start to recover.
6. Health and Wellness
Multi-purpose spaces that promote health and wellness for guests is an important and growing trend. These design upgrades come at a cost and will take time to implement. However, millennials are increasingly demanding more sustainable accommodations and organic local farm grown foods. Millennials have overtaken the baby boomer generation in the labour market and will be the driving force behind hospitality growth in the medium to longer term.
7. Technology
With new social distancing measures and a focus on cleanliness, electronic check-in / check-out will become more important to the industry with guests not having to come to the front desk to get a key. Digital technologies via mobile phone apps (using Apple Wallet-type technologies) will become the norm, including for F&B as people order room service using their smartphones. Implementation of these technologies will have a significant initial cost but will lead to efficiencies and lower costs longer term.
In conclusion, the hospitality industry faces significant near and medium-term challenges. The large operators with strong balance sheets and solid liquidity positions will be the survivors and likely consolidators within the industry. Smaller operators will likely not survive a prolonged period of low occupancy, higher costs and losses. Niche boutique hotels offering health and wellness focused accommodations and experiences will become increasingly in demand, especially among Millennials. In the longer term, the global hospitality community will recover and likely in a renewed and innovative form. Indeed, history has shown that our global community has dealt with far greater pandemics, wars and other challenges then currently being experienced.
Peter Plaut speaks on the Investment & Creative Placemaking panel at the MIPIM Urban Forum, as part of Paris Real Estate Week, September 16. More info here…
Top Image: Getty Images – South_agency