3D printing applications are making advances in a wide variety of areas, including medical applications, organs on chips with integrated sensing, custom fit recreational sportswear clothing, airplane construction tools, and shoes.  General Electric is even jumping into the fray with a recent acquisition of two 3D printing companies for 1.4 billion dollars!  This evolving technology is now even poised to change the way residential real estate design and construction occurs.
3D printing offers cost and time saving advantages, plus increased strength and reduced weight in buildings.   It's a technology that's been around for almost 30 years, but just lately is hitting metrics required for scalability.  While some 3D printing labs have focused on pushing the envelope of prototype possibilities with this new technology, Branch Technology is one 3D printing company paving the way for large scale production of structurally engineered building parts.  For example, they make pre-formed wall segments that are lighter, stronger than traditional wood frame construction.  Branch Technologies is also dramatically increasing production capacity with new large free form 3D printers that can already print; interior decorative walls, elements and ceiling, non-load bearing interior partitions, furniture and exhibition structures (pictured above is VULCAN, the world's largest 3-D printed architectural structure as of 2015, located in Beijing, China).
This list of competitive advantages 3D printing offers can be directly translated into cost savings for builders.  The savings come from three key areas.  The first is less waste.  By 3D printing precise pieces of the building sections off site and then shipping them to the final build location, everything that ships gets used, without major modification (or waste).  Total materials shipping and delivery costs to the build site become lower as only what will get used, gets transported.  The second competitive and cost saving advantage 3D printing offers is shorter lead time through decreased design and manufacturing complexity.  No longer is the fabricator required to re-tool the assembly line, templates and other factory processes every time the design changes.  This effectively eliminates lead times entirely between different projects and/or design review imposed modifications to the building plans.  Customization is no longer a change order, it's simply a new digital file to the production location.  Finally, the third key competitive advantage is structurally stronger and lighter buildings.  Branch Technology creates parts using a carbon fiber reinforced plastic material that is 3D printed in a lattice generated shape (the shape is co-designed in collaboration with engineers at The Massachusetts Institute of Technology).  These progressive shapes are ultimately stronger and lighter than traditional wall systems.  Thus, new architectural designs are now becoming practically possible, (pictured below is the massive 3D printed tool Boeing Airlines will be using soon to produce aircraft).
Most recently Oak Ridge National Labs in St. Louis, Missouri, USA, produced the now largest 3D printed object in 2016.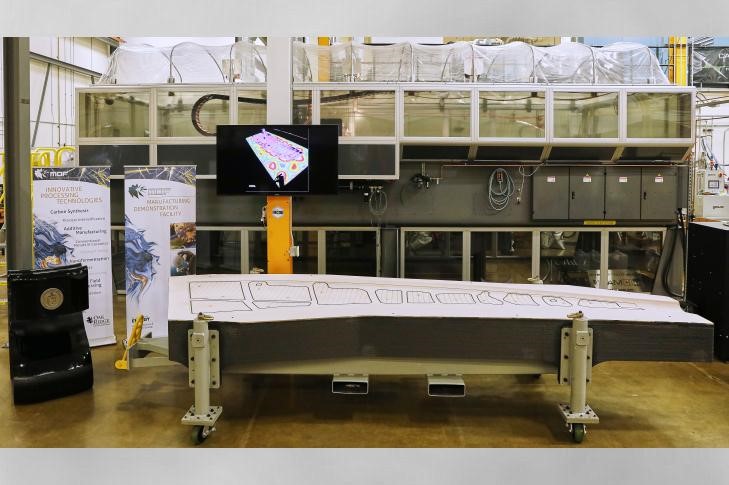 "The existing, more expensive metallic tooling option we currently use comes from a supplier and typically takes three months to manufacture." – Leo Christodoulou, Boeing
3D printing construction processes now make it literally possible to generate unlimited design iterations using a single base file with minor programming adjustments, thus removing the historical human error in paper plan adjustments.  This and the other cost, time and design advantages make it a new force on the building front to keep an eye on in 2017.  We are only just learning of the real potential this technology offers the building industry.  Stay tuned, and expect to learn more about 3D printing at MIPIM 2017.  See you then.
____________________________________________________________________________________
http://www.inc.com/associated-press/general-electric-acquires-3d-printing-firms-for-1-billion.html
https://3dprintingindustry.com/news/ornl-sets-guinness-record-largest-3d-printed-object-95125/
http://news.harvard.edu/gazette/story/2016/10/the-first-fully-3-d-printed-heart-on-a-chip/
http://www.pbs.org/newshour/rundown/china-unveils-worlds-largest-3d-printer/