As concerns mount over global warming, we as individuals, companies, professionals and communities are squandering the earth's natural resources and poisoning our planet at a record rate – often without thinking.
A
WEF report ahead of this year's World Economic Forum (WEF) in Davos identified 'extreme' weather as the world's No 1 risk.
A chill reminder came when the thousands of leaders attending the Forum stepped out into the night on Day 2 to be met with temperatures of almost -20oC, as a cold wave swept across Europe.
The repercussions of failing to tackle climate change are much bigger than the environmental effects.
As Ursula Hartenberger, Head of Global Sustainability at RICS, explains: "A lack of action towards climate change will also threaten social cohesion and economic growth."

Sustainable development – the power of reimagination
An illustration of how environmental protection links in with social inclusion and economic growth is provided by the World Bank.
The bank estimates that over 140 million people in the world may become 'climate migrants' by 2050 as they lose their lands, homes and livelihoods to drought, extreme weather conditions, and rising levels of salinity and the sea.
At the same time, we are currently consuming 1.7 times more natural resources than the earth can produce, according to Earth Overshoot Day, while the United Nations predicts that the world will need 50% more energy, 40% more water and 35% more food by 2030.
As the world warms, the direct effect on real estate will also be felt. Buildings may no longer be fit for purpose, says Hartenberger. Refitting is a costly option, with a knock-on effect on investment returns.
The United Nations defines sustainable development as meeting the 'needs of the present without compromising the ability of future generations to meet their own needs'.
"We can't just repair a broken system, we must reimagine it" – Noura Berrouba.
Noura Berrouba, one of six millennial co-chairs at Davos, and a member of the governing body of the European Youth Parliament, said: "If we want to honestly repair the climate crisis, we can't just repair a broken system, we must reimagine it."  We need to do the same with real estate.
RICS working with the UN to achieve sustainable development
RICS is a global real estate professional body, with 125,000 members in nearly 150 countries. It works with a range of organisations on sustainable development, including the United Nations Global Compact, as well as the EU's Technical Expert Group on Sustainable Finance.
The UN Global Compact partners with over 9,500 companies in 160 countries around the world as part of the programme to turn the UN's 17 Sustainable Development Goals (SDGs) into a reality by 2030.
The SDGs were launched in 2016 as a 'blueprint to achieve a better and more sustainable future for all'. (See below for list of all 17 goals.)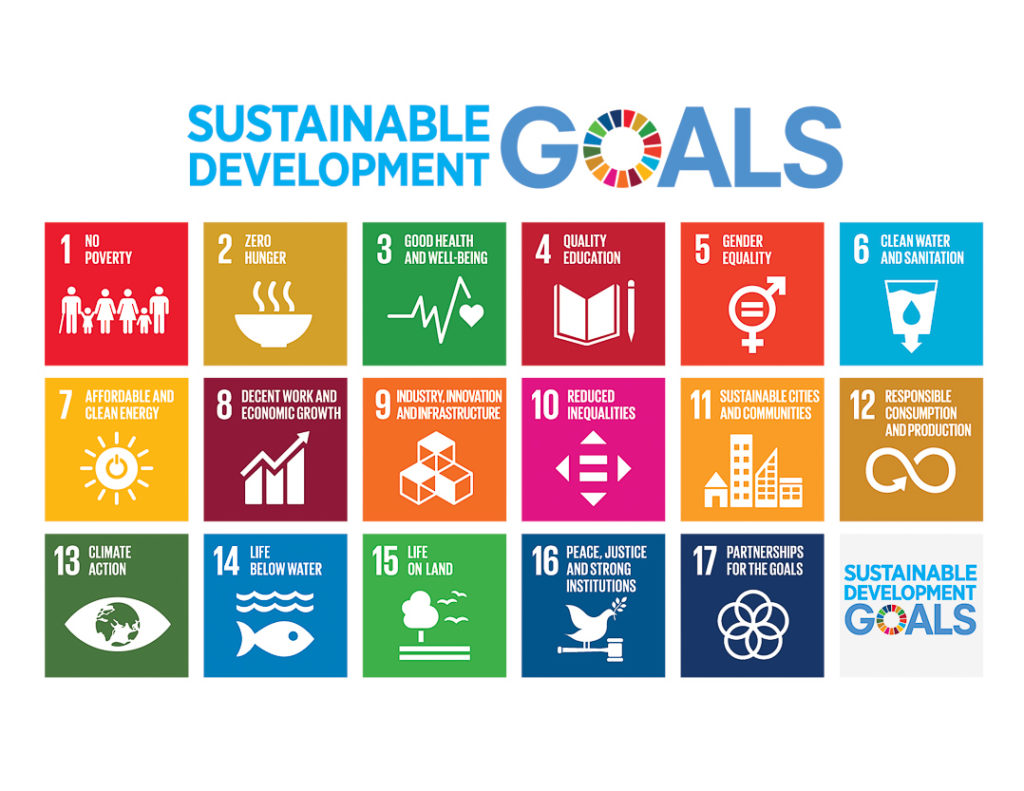 The real estate industry plays a key role in achieving these goals given that the sector accounts for half of global wealth, according to the report published jointly last year by the UN and RICS, Advancing Responsible Business Practices in Land, Construction, and Real Estate Use & Investment – Making the Sustainable Development Goals a Reality.
"Buildings need to be seen as the physical embodiment of a company's sustainability policy" – Ursula Hartenberger.
Hartenberger says: "Everyone lives, works and plays in buildings. As such, real estate is in the position to be a powerful driver in making the SDGs a reality. Buildings need to be seen as the physical embodiment of a company's sustainability policy, whether that company is the developer, investor or occupier of a building."
Reimagining real estate in a sustainable world
The business case for making buildings green is already out there. The World Green Building Council put savings in operating costs at 14% over five years and 13% for a green retrofit, with investment payback time at seven and six years, respectively.
"By adopting a sustainable approach to business … you are future proofing  against risk" – Ursula Hartenberger.
And the benefits don't just end there.  "Especially in today's fast-moving digital world, client preferences can shift overnight," says Hartenberger. "By adopting a sustainable approach to business, successfully embracing all three angles of sustainable development – environmental, social and economic – you are future proofing against risk."
A sustainable approach can also lead to the creation of new products and business models without these even being anticipated, she says, citing modular construction as an example.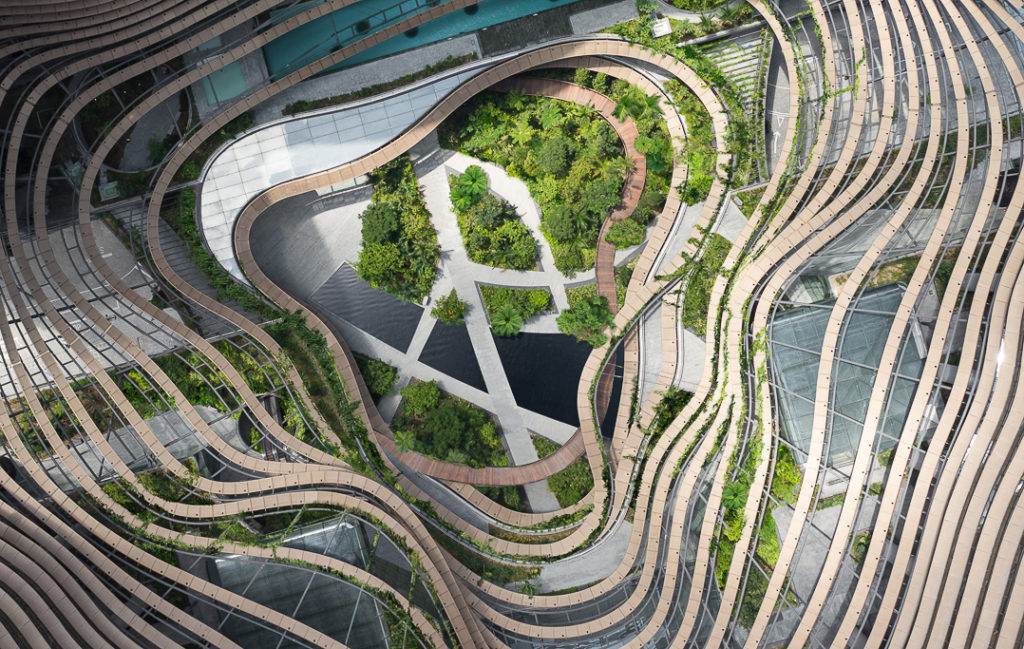 Marina One, Singapore, winner of MIPM Awards 2018, Best Innovative Green Building
Making sustainable development part of corporate DNA
Within their organisations, Hartenberger identifies three key ways that real estate companies can work towards sustainable development:
Sustainability needs to be part of the company's DNA; part of a 'long cycle' thinking approach. Not just an add-on.
Sustainable development needs to part of the whole organisation, from top to bottom and bottom to top. "Very often policies get stuck within a hierarchy," she says.
Every employee needs to understand their role in fulfilling their company's or organisation's sustainability policy, and every employee should be accountable and be rewarded accordingly. "It requires a carrot-and-stick approach," she adds.
What success looks like
Asked about how RICS would define success in terms of their sustainability programme, Hartenberger replies: "When no one asks me to prove the business case for sustainable development or comes up with thousands of excuses as to why sustainable development does not work."
As JF Kennedy said: "We all breathe the same air. We all cherish our children's future. And we are all mortal." That should be reason enough that we all work towards engaging the future in a way that is sustainable – environmentally, socially and economically, bringing benefits for all.
The 17 UN Sustainability Development Goals
No Poverty
Zero Hunger
Good Health & Well-Being
Quality Education
Gender Equality
Clean Water & Sanitation
Affordable & Clean Energy
Decent Work & Economic Growth
Industry, Innovation & Infrastructure
Reduced Inequalities
Sustainable Cities & Communities
Responsible Consumption & Production
Climate Action
Life below Water
Life on Land
Peace, Justice & Strong Institutions
Partnership for the Goals
The views in this article are the views of the author and do not necessarily reflect the views of Reed MIDEM.