March 14, 2013
Tom Bobo sits in on "The future of CRE: Trends set to revolutionize our industry" with Woods Bagot and CBRE. He notes 3 major emerging trends, including progressive metrics such as leafy plants per worker.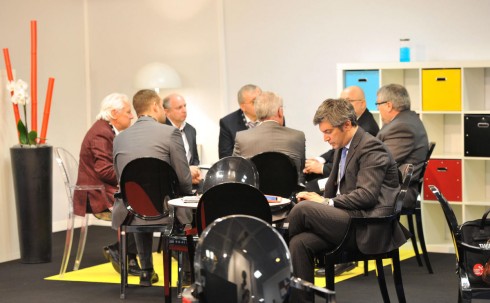 I attended a session today at MIPIM that focused on The future of CRE: Trends set to revolutionize our industry. To say the least, the topic is daunting for any professional or academic. The panel was comprised of 2 real estate experts in person, and one in absentia due to a winter storm in Paris. The panelists were:
• Earle Arney, Global Board Director and European Executive Chairman, Woods Bagot
• Ben Munn, Join Global Head of Workplace Strategies, CBRE
• Damien Sanouillet (absent), Director of Business Development, Jones Lang LaSalle
Each panelist was asked to prepare 3 trends that they see as the future of CRE. While the lists were different, the common theme between the three speakers could be summed up as:
1. Data and IT can and should play a beneficial role in workplace productivity
2. CRE must be flexible and CRE acquisition should focus on "future proofing"
3. Physical changes cannot complete the shift, behavioral changes are necessary
Regarding data and IT, both Mr. Arney and Mr. Sanouillet used the term "enabler" in reference to IT. Mr. Sanouillet used the phrase in his slide that end-users must leverage the IT revolution and that IT should be a "productivity enabler, not a disabler." The way to leverage IT is to focus on integration of functions like IT, and HR, with core business disciplines. Work space design that encourages collaboration will lead to more successful leverage of technology.
Next, the panelists all seemed to focus on the need for space to be flexible. This takes on different meanings, such as the trend toward "on-demand" assets from owned assets, and easily adjustable space that focuses on shared spaces beyond just sharing desks. Mr. Arney described a mind-set that focuses on designing buildings from the "inside out." This "inside-out design" strategy first considers the interior work environment and then incorporates a façade that can facilitate the functionality of the space.
Finally, a company can build as progressive of a space as is possible, but if you do not address behavior, the design alone will not deliver the desired result. Mr. Sanouillet's slides stated a goal to bring people back to the office for different reasons. A sense of community is seen as critical to long term success. Mr. Arney referred to removing boundaries and empowering employees to celebrate collaboration. Focusing on creating beneficial and chance interaction is a goal for many companies. Design and culture will maximize the benefit to be gained from these opportunities.
While there are no concrete answers to a question that asks for future revolutionary trends, the three panelists today provided useful insight into some of the newer drivers behind the corporate real estate market. If you are wondering about a potential future metric for a corporate real estate office, Mr. Anrey referenced the Lend Lease headquarters in London. This new HQ measures how many plants there are per person. With new and progressive metrics such as leafy plants per worker, the future looks green.
Tom Bobo is currently pursuing an MBA and a Master of Science in Real Estate at the University of San Diego. Tom is an official curator for the MIPIM World Blog Sustainability and Innovation industry news section.
Image: V. DESJARDINS / IMAGE & CO
One comment on this article